Cheryl Tiegs recently gave her take on the latest fashion controversy of plus size models. In a pre-Oscars party on Wednesday, the former supermodel said that she was not happy with all the talk surrounding full-figured women because it was bringing them into prominence and giving them a glamor that she felt they did not deserve. She was answering a question as to whether Cheryl was enjoying the fact that women were stepping forward to break the stereotypical mindset of looking lovely only in a model figure. A former swimsuit model for Sports Illustrated, Cheryl Tiegs was referring to the fresh controversy that was stirred after Ashley Graham was featured on the latest Sports Illustrated cover. Ashley Graham created history last month by being the first model in the plus-size category to find a place on the cover of Sports Illustrated. "Her face is beautiful, beautiful," added Cheryl as a measure of appreciation and then went on to say "But, I don't think it's healthy in the long run."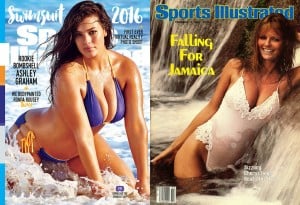 The former supermodel – now at the ripe old age of sixty-eight – isn't the first to speak out against the acceptance of plus-size models in the fashion industry. Plus-size models, as the name suggests, is an expression used for individuals that have a larger stature who is engaged mostly in modeling plus-size clothing. The plus-size modeling industry or models have generally garnered criticism from consumers as well as former models on the premise that acceptance of such "full figure" bodies sets a poor example of health management. There is constant consumer-based criticism of the plus-size models. There is a barrage of negative comments being made about plus-sized female models especially which is becoming commonplace and widespread. The statistics, however, point to a glaring problem with American psychology.
According to a USA Today article published in 2014, the average man's waist is 39.7 Inches, while the average women's waist size is 37.8 inches. Both of these averages are over size 14 while the models who are engaged in modeling for plus-size clothing are mostly between sizes 6 to 12. Is this because over the years we have been led to believe that only women who are size 4 or lesser, should be allowed to model? Are sizes 0 to 4 models really leading with a great example? There are numerous cases of abuse to the body that have been attributed to modeling both in plus-size as well as among the "normal" models.  There have been reports of women fasting for days and ending up harming their own bodies in the process. Even in the case of plus size models, some have been reported to follow unhealthy practices, for example consuming salty foods to keep hold of water weight and inconsistent size to satisfy clients.
It is to be noted that women in the 70s and the fashion industry as a whole felt largely comfortable with the concept of plus size models and only underwent such a huge change in outlook only in the last 30 years or so. Maybe the issue that consumers are objecting to you at least on the face of it is the word "plus-size". Television presenter Ajay Rochester and Australian model Stefania Ferrario started a campaign with the aim of doing away with the use of the word "plus size" in the modeling industry for describing models who were over the US Dress size of 4. Their campaign got a lot of publicity and people tweeted their opinion using "#droptheplus". This campaign was heavily discussed and garnered mostly positive reactions in the social industry and within the fashion industry. However, there is no denying that being size 12 or more has a tremendous negative impact on the body of the person. As per general trends, the average waist size of both men and women in the US has been on the incline. More than 35% of the American population is obese and over 6% of them suffer from extreme obesity.
This uptrend of increasing waist size is because of improper choice of food and a generally unhealthy lifestyle. Given the stress and twenty-four-seven nature of everyone's jobs, the time right now only indicates that it is right now more apt than ever to adopt a healthy lifestyle. Even though it may not be necessary for everyone to go vegan all of a sudden, eating healthy and working out never harmed anyone. Moreover, the pollution in the environment all around us also begs us to consider adopting a more healthy lifestyle. Thirty minutes of working out, some walking, and eating healthy food are very easy-to-follow steps that one can adopt immediately to start living healthy. Some people ask if living healthy is so easy, why not live healthy? Obesity and being overweight is generally attributed to being high in sugar and having heart problems later on. There is no biological upside to having a plus-size body and there is no denying that fact. What can be debated is if having a "plus size" actually means it gives somebody the right to comment on or criticize that person.
How someone lives their lives is up to them and given the mostly positive feedback and popularity that "plus size" models are receiving, it proves that there is even a market for it. The fact that these models are being accepted and given a chance to feature in such a prominent magazine as Sports Illustrated only goes to show how much our society is evolving and how we are constantly challenging the idiosyncrasies associated with the modeling industry. And that is extremely important and pertinent to the development of the human race. Whether the rising popularity of plus-size models is only a fad or if it is here to stay is something that is to be seen, but the fact that it is getting mainstream attention is something that is commendable and to be appreciated.
At the same time, the amount of criticism that they are having to face from a handful of people is extremely distasteful. In an interview with E! News, Ashley Graham, when asked how she felt being someone who represented "real women" said: "I've got plenty of friends [of all sizes] and different shapes and everything. And I don't want any of them to feel like they aren't 'real women." And given the statistics of the general US population, she is absolutely correct and on point. So the modeling industry must ask itself if they want to represent what is "real" or just what is "desirable".
---
© 2016-2023 by Overweight.net, a LiVenture. All rights reserved. No part of this document may be reproduced or transmitted in any form or by any means, electronic, mechanical, photocopying, recording, or otherwise, without prior written permission of LiVentures.